This is one of the most looked for recipes for a traditional mexican dinner and is perfect for any kind of celebrations is Pozole Rojo or Red Posole.
Always consumed in México at Independence Day Parties and a Cinco de Mayo favorite is also a perfect weekend breakfast after a wild night, as many people has already discovered can bring back all the joy and make that hangover disappear.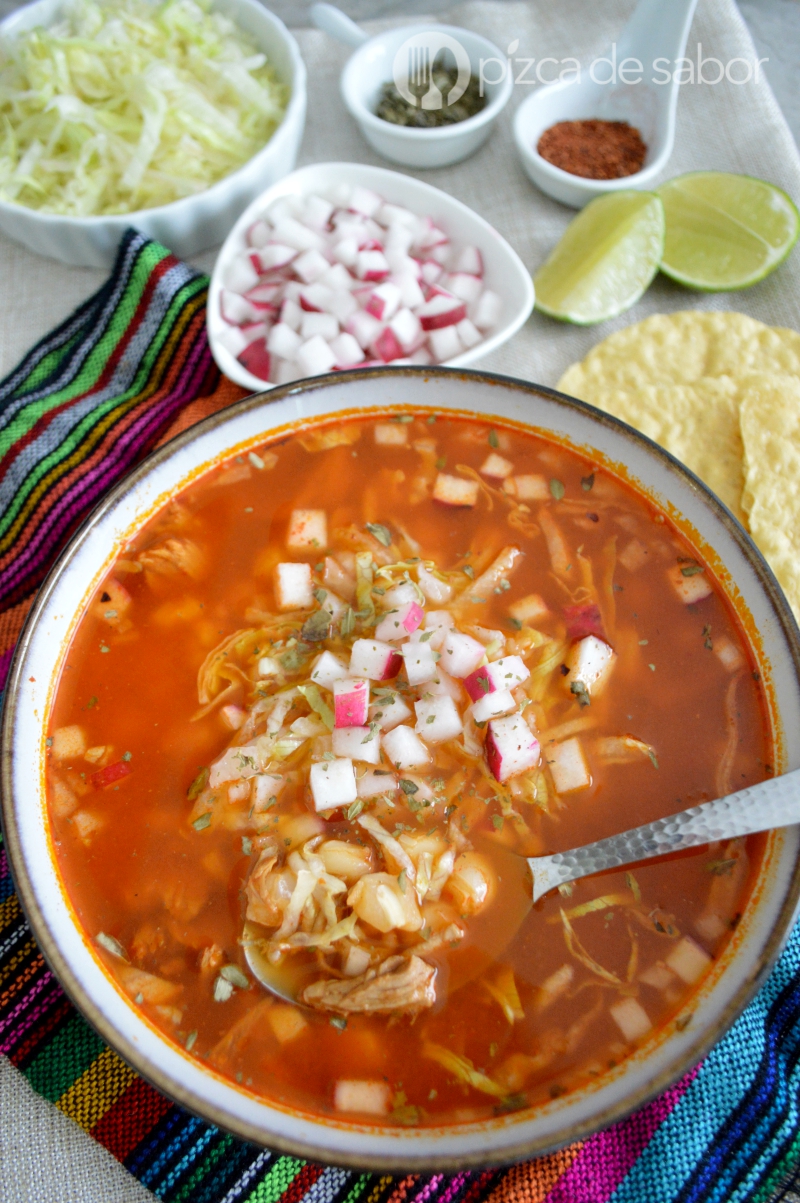 This is a simplified, easy to prepare pozole rojo recipe for everyone to enjoy at home. But don't let its simplicity fool you, this magic mexican soup is so tasty that everyone will be asking for another serving.
Also is a healthy and very nutritious food in which you can control the amount of fat by choosing a lean pork backbone or loin.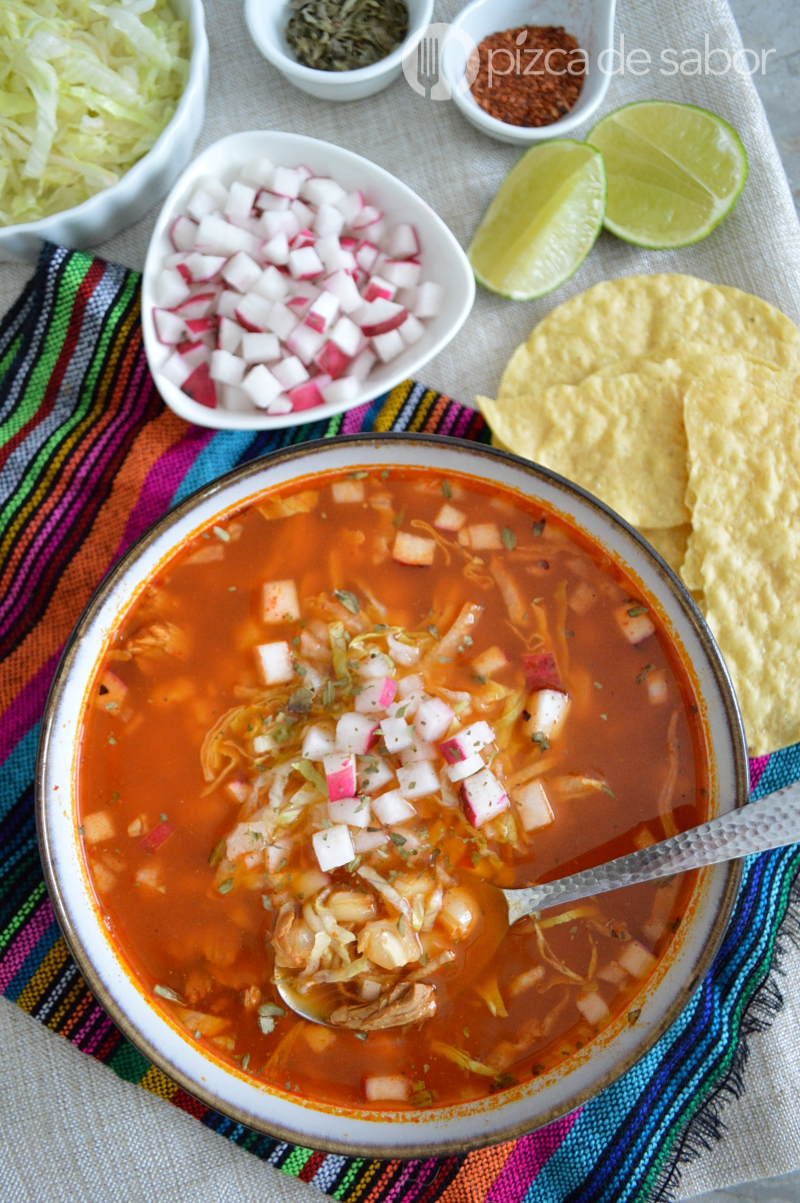 Just the right amount of heat.
We use dried guajillo chile (peppers) that are not spicy but give this beautiful, distinct and warm taste to pozole. So don't be afraid to prepare this recipe.
And for just the right amount of heat you can use chile de árbol powder, crushed chile de árbol or cayenne powder but always offer them as a topping so everyone can choose its spiciness to taste.
The toppings make the magic continue.
For serving we can use the following toppings: limes, radish, tostadas and the most important of all: dried oregano. This herb is very very important to achieve that classic mexican flavor and aroma.
Also serve with shredded lettuce or cabbage. There's an ongoing discussion in México about this. In México City is always with lettuce but in some other parts of the country is served with cabbage. As for me, I will always use cabbage because the texture that it gives.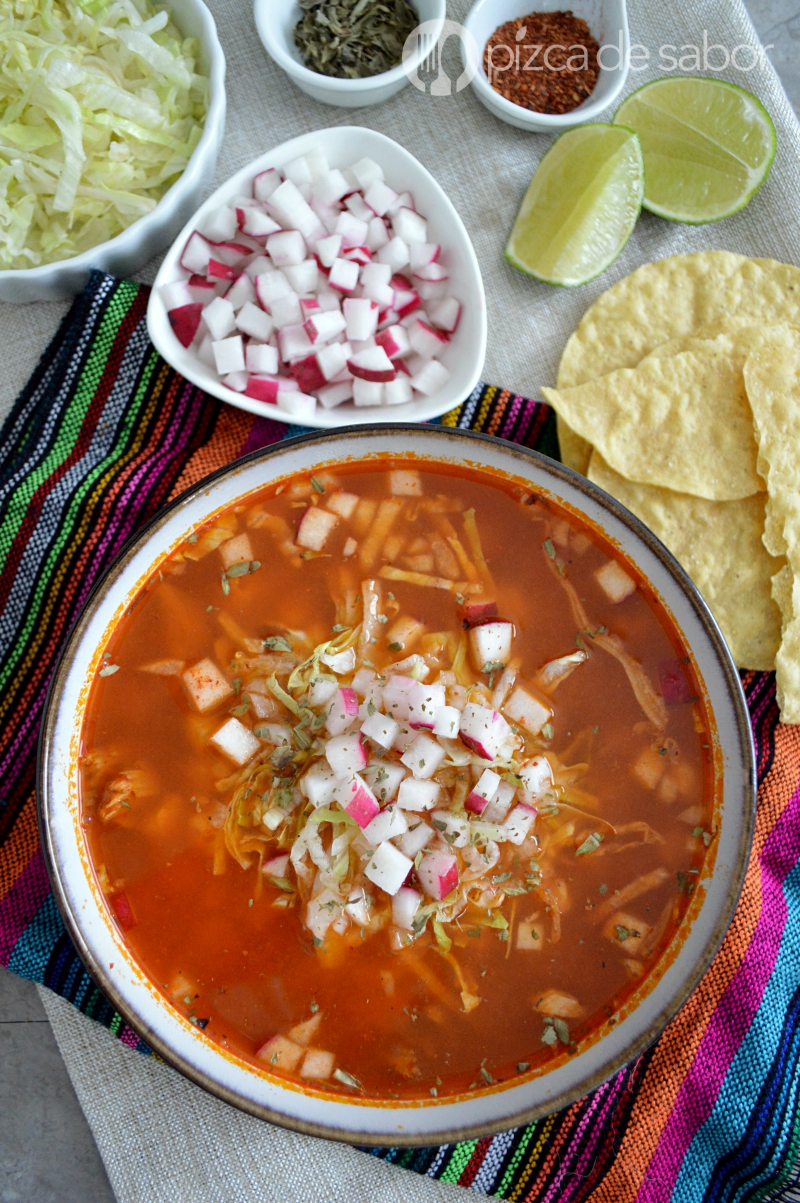 Top tips from the chef
Remember that the secret for the perfect pozole is time. The more time that you simmer and rest your pozole the tastier it will be. That is why we recommend to simmer it at least an hour and twenty minutes.
You can also prepare this dish a day before serving as it refrigerates well and doesn't lose its flavor after reheating it.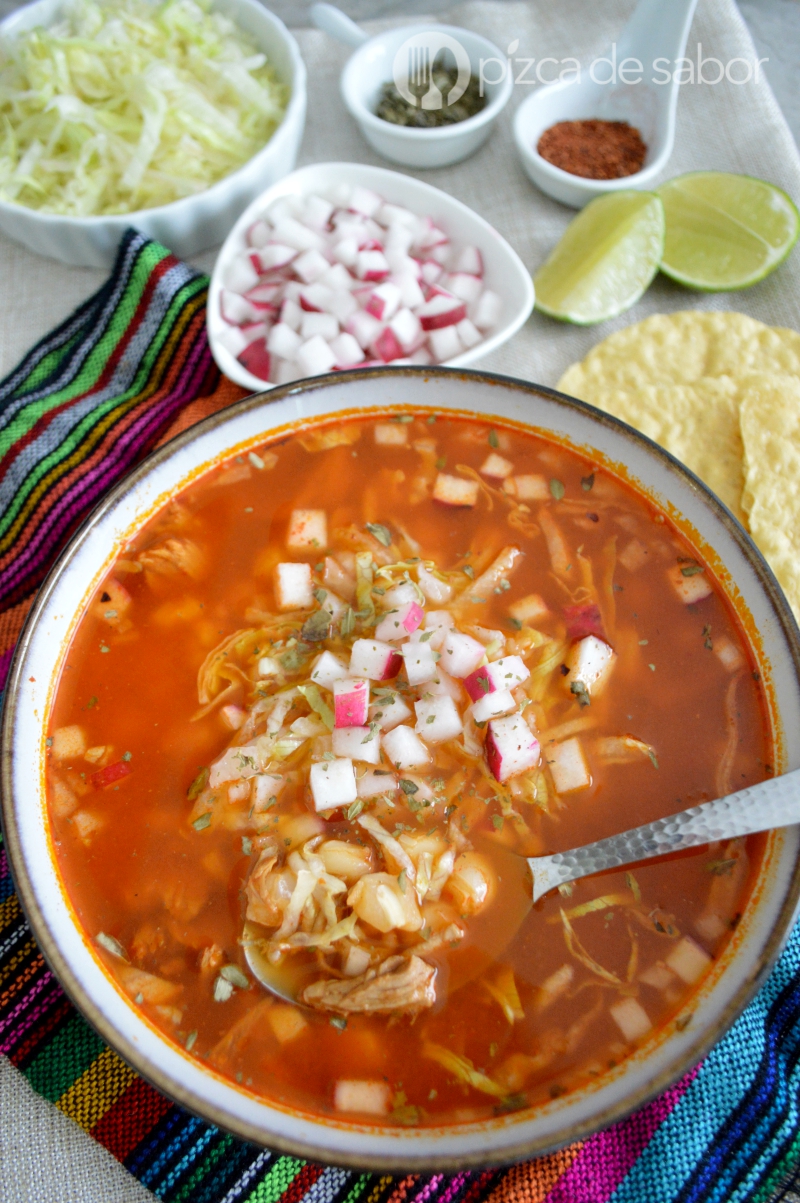 Pozole Rojo or Red Posole
This traditional pozole rojo recipe is so easy to prepare, delicious, with traditional ingredients and superb flavor that everyone will love.
Ingredients
2

lb

pork backbone or loin

medium pieces

1

lb

white hominy

precooked

1/2

white onion

sliced in big pieces

3

guajillo chillies

dried, unseeded

1/2

tablespoon

cumin powder

1

garlic clove

peeled

Salt

to taste

Black pepper

to taste
To serve:
Radishes

to taste

Lettuce or cabbage

to taste

White onion

to taste

Dried oregano

to taste

Dried chili or chili powder

to taste

Lemons

Tostadas
Instructions
Wash well the white hominy under running water.

Place onion, garlic and pork meat in a pot. Cover with 4 qt of water and cook over medium heat for 1 hour or until meat softens.

Once cooked, remove onion and garlic and reserve. Remove the meat and shred (don't dispose the cooking water, we'll use it!).

Remove foam from the cooking water with a spoon.

Boil 2 cups of water and pour them in the blender. Add chillies (unseeded and without stalks), cumin and the garlic you removed from the pot.

Blend until smooth, and pour into the cooking water.

Add the shredded meat and hominy, and season with salt and pepper to taste.

Simmer covered for 60 to 80 minutes over low medium heat. Rectify season and serve hot

You can prepare your pozole early in the morning and leave it on the stove (with flame off) . This resting time will definitely improve the flavor.

Serve hot with radish, cabbage or lettuce, onion, dried oregano, lemon, tostadas and chili powder.
Notes
PORK: Sometimes I use 2 lb backbone pork instead of 1lb pork meat for the stew. Both ways give excelent results.
COOKING TIME: The more time you let it simmer, the more flavour your pozole will be.