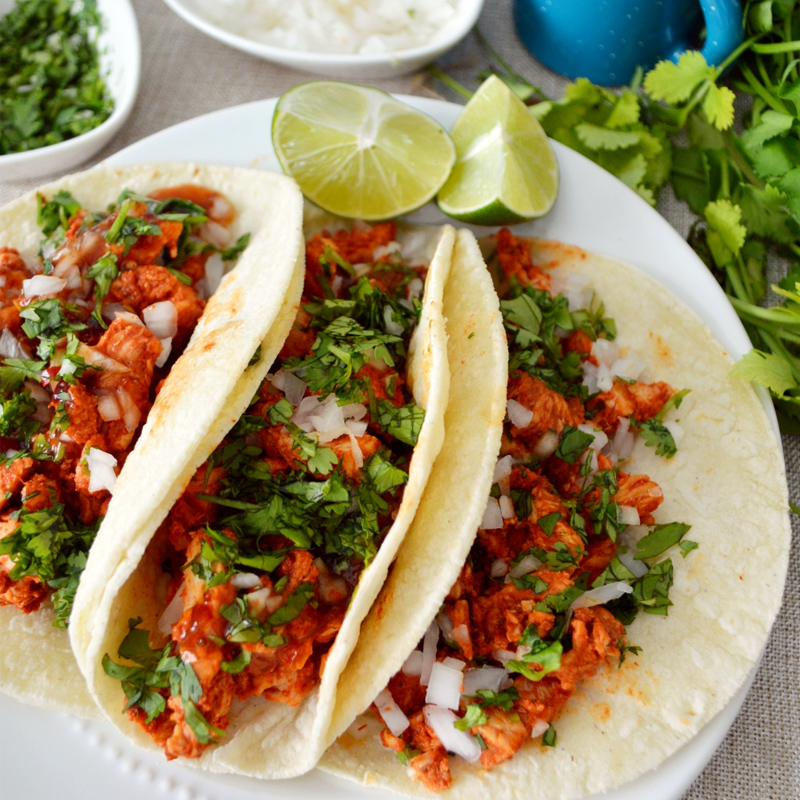 One of the most requested recipes in my spanish blog Pizca de Sabor. Tacos al pastor are one of Mexico's most traditional foods. If you want to recreate the flavor at home, I've got you covered with this easy recipe of al pastor adobo or marinade sauce. 
AL PASTOR ADOBO
You do need some dried chilies; they are the base of the recipe and the adobo or the marinade sauce. You can get them now at amazon or at some supermarkets that sell Mexican products. We use a mix of guajillo, ancho and chipotle chilies.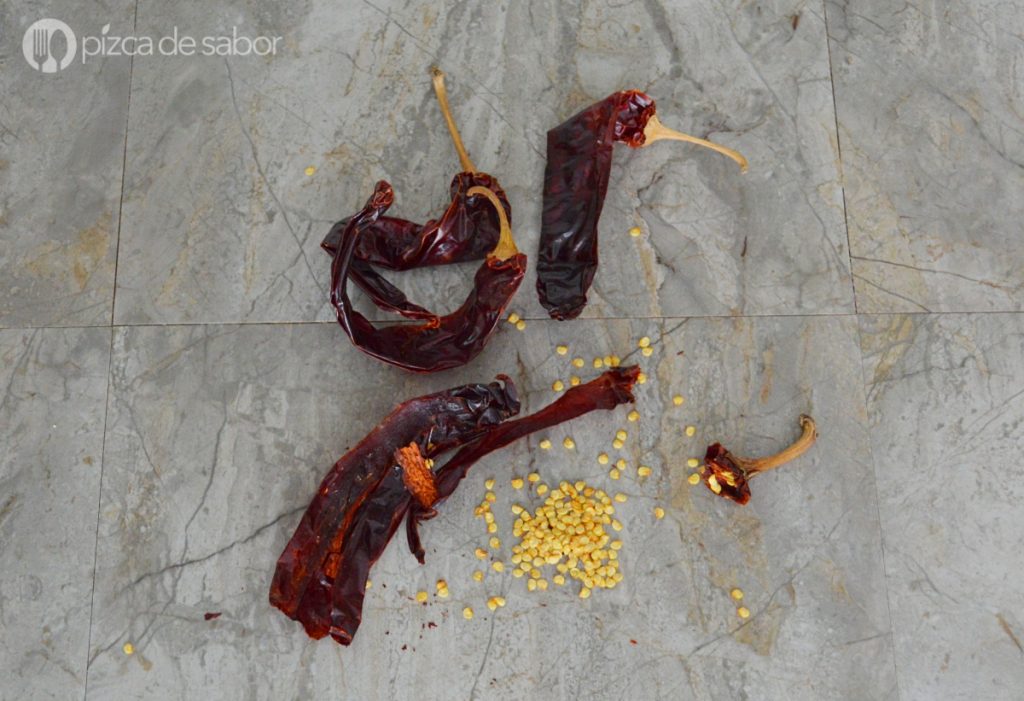 DRIED PEPPERS OR CHILIES
I'll tell you a fun fact about these dried chilies. They have 2 names, the name when the chilies are fresh and the name when the chilies are dried, so the chilies we used are:
Guajillo (dried): Mirasol (fresh)
Ancho (dried): Poblano (fresh)
Chipotle (dried): Jalapeño (fresh)
FEW INGREDIENTS
The chipotles in adobo are completely optional, it's just to give it a more smokey flavor and spiciness to the recipe. We use pineapple juice, apple cider vinegar, onion, garlic, clove, cumin and of course, oregano. Here's the recipe video so you can make al pastor tacos o tacos al pastor at home.
You can use it on pork, chicken, shrimp and even fish if you do not want to go the traditional route or want to spice up your fish recipes. Hope you enjoy it!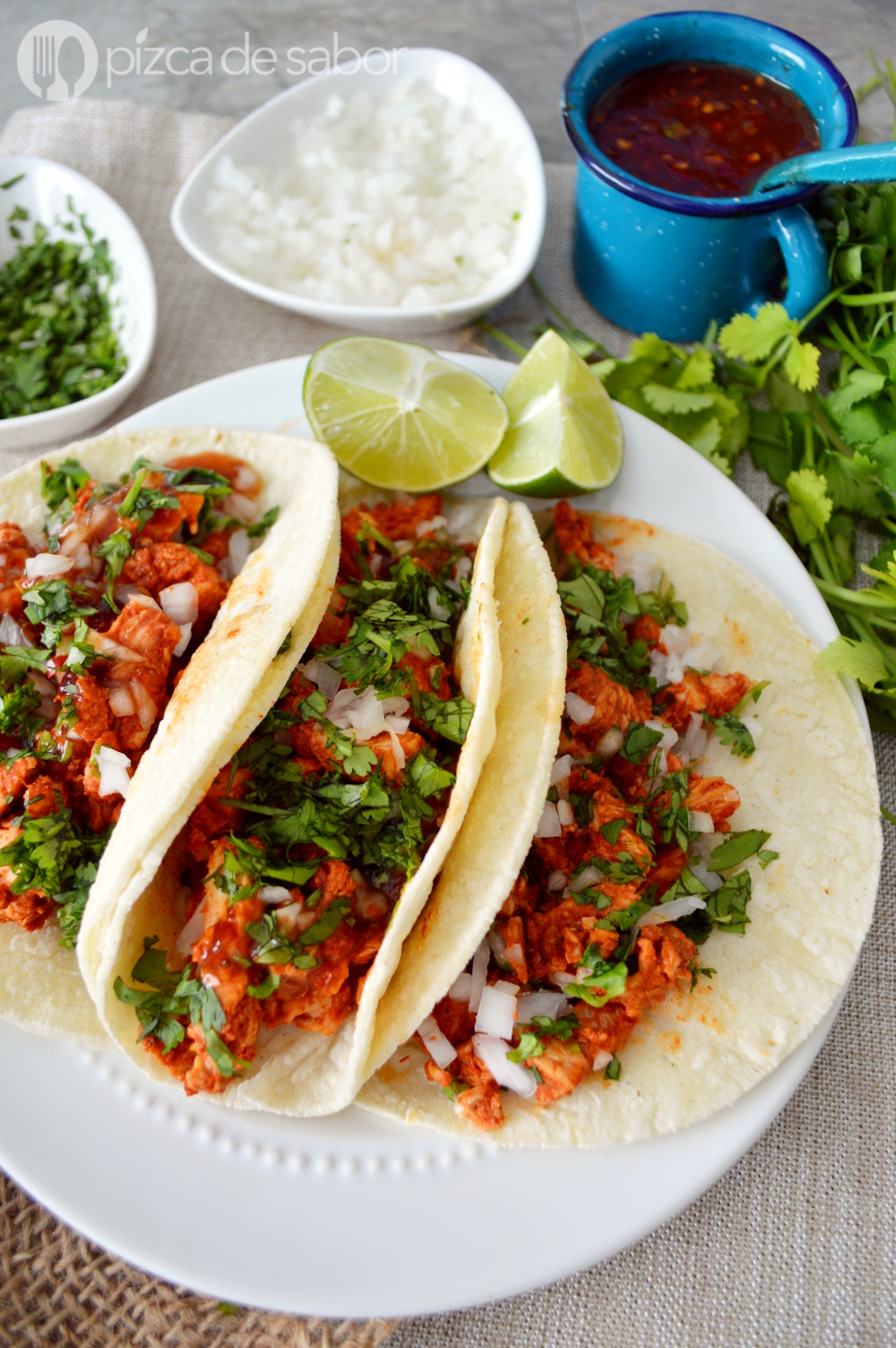 Al pastor marinade or adobo sauce
One of Mexico's most traditional foods. If you want to recreate the flavor of tacos al pastor at home, I've got you covered with this easy and traditional recipe.
Ingredients
2.2

lb

chicken or pork meat

4

guajillo chillies

unseeded

2

anchos chillies

unseeded

1

chipotle pepper or chili

in adobo sauce (optional)

1

piece

onion

3/4

cup

pineapple juice

1

tbsp

apple vinegar

2

garlic cloves

2

cloves

1/2

teaspoon

ground cumin

1/2

teaspoon

ground oregano

Salt and pepper

to taste
Instructions
Remove the stalk and unseed the dried peppers or chillies.

Cook chilies and onion in boiling water for 5 minutes.

Drain chillies. Put them in the blender with the vinegar, garlic, oregano, cumin, cloves, pineapple juice, salt and pepper.

Add chipotle to taste for a spicier sauce, this step is optional and both versions taste amazing.

Mix chicken or pork with the adobo sauce, cover and marinate 3 to 4 hours in fridge. You can leave it all night if you want to.

Remove meat from sauce and cook in a pot or grill until well done.

Your meat will be tender, juicy and have a wonderful color. Serve with tortillas and your favorite sidedish. I like to serve the tacos in corn tortillas with cilantro, onion, lime juice, pineapple and salsa. Or you can make gringas, with flour tortillas, melted cheese and chopped al pastor meat.
Notes
PORK: Use chopped pork shank or loin CHICKEN: I recommend chicken breast, fajitas, wings, legs or your favorite piece.